Initial Fax Setup
Before you can send or receive faxes with Chronicle, you must do some one-time Internet fax setup on the Fax tab in the Main System Setup. This includes creating cover sheets for faxes.
Sending Faxes
Faxes can be sent by choosing a fax recipient for any journal in Chronicle. You'd send the fax just as you would any other journal/email: the only difference is that you'd choose the recipients as fax recipients rather than as email (To/Cc/Bcc) recipients using their fax number instead of an email address. From your perspective it looks like sending an email but it is sent to their fax machine. Send faxes from the journal of the job, person, or office they're associated with so they become a part of the corresponding file. And be sure the document you are faxing is attached to the journal entry screen for that job, person, or office.

Incoming Faxes
To review incoming faxes, go to the Faxes tab. The received faxes are listed on the left, detail about the fax is shown under the list, and the actual fax content is shown on the right.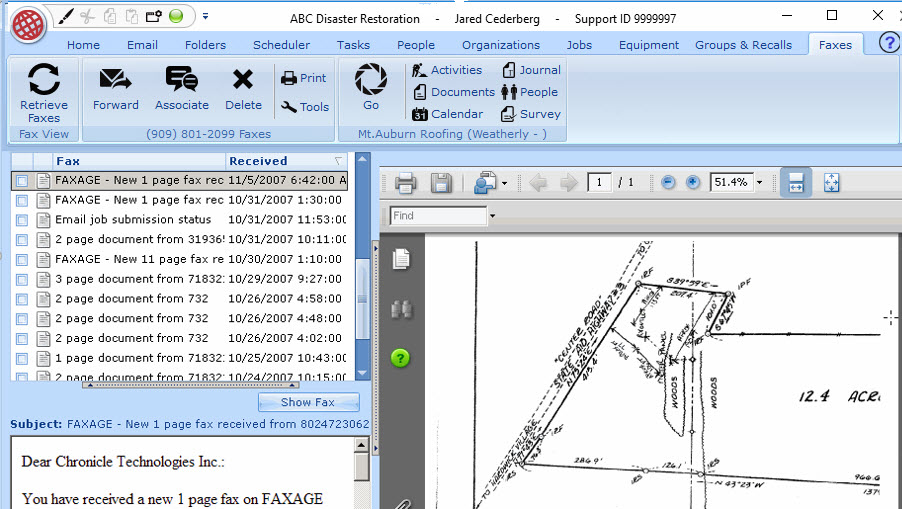 To associate a fax with a job or person: If you receive a job-related fax, click the Associate button, pick Job from the menu, and then pick the job to associate the fax with. This will make the fax a permanent part of the job file. Likewise, if a fax is associated with a particular person or organization, you can also associate the fax with them.
To forward the fax to a particular employee: Click the Forward button and then pick the person to send the fax to. The fax will be sent to that person's email. If the fax is job-related, associate the fax with the appropriate job before forwarding it so the recipient also gets the corresponding job file.
To remove a fax from this list: Click the Delete button. This removes the fax from the Faxes tab but it does not remove it from any job/person/etc. file that you have associated it with. Deleting it here also does not remove it from the email box of anyone that you have forwarded it to.