Chronicle can easily see who you are sending an email too or receiving it from but Chronicle needs to be told what an email is about and we do that by associating the journal to a person, organization or job. Emails are also called "journal entries" as the emails about jobs are stored in the job's journal. More often than not, most emails are about a job. Whether you email the journal entry or not, you still must make sure the association is selected. 

When there are attachments on an email, and you associated the email to the job/person, the attachments are automatically associated. Sometimes, you do not want all of the attachments associated. Chronicle gives you the option to only associate selected attachments.
Here is how to associate an email/attachments to a job or person:
At the top of the screen, click the

Email

tab.
Click the

email you wish to associate with a particular job or person

.
Click the

Associate

button in the tool bar.
Choose what you want to associate the email with. The choices are: to a job, person or organization.
Select the correct job, person or organization.
Next you can select the department the attachments belong to. You can only select one department.
You can even uncheck any attachments you do not what to save like a logo.
You can also select whether images should be a single document or grouped into one.
The info panel on the email tab will change to whatever you select: person, job, or organization.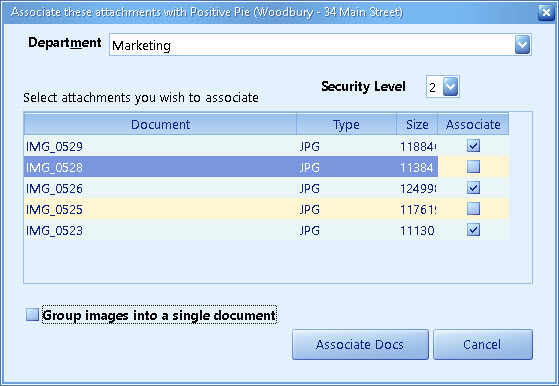 Once you've done this, you will have a copy of the email both in your inbox and wherever you associated it. Deleting the message from your inbox does NOT remove it from the job you associated it with; even if you delete the email from your email list, the other copy will still be there. And even though you can create folders for emails, you still must first associate the email or documents to the job they belong to.