While you can print any journal that has been added to the database, you can only move journals between jobs. For example, you'd move a journal from one job to another if you accidentally entered the journal for the wrong job. To move a journal, right-click the journal (or select it and click Edit), and then click Move Journal to Another Job. Confirm that you want to move the journal, pick the job to move it to, and click Next.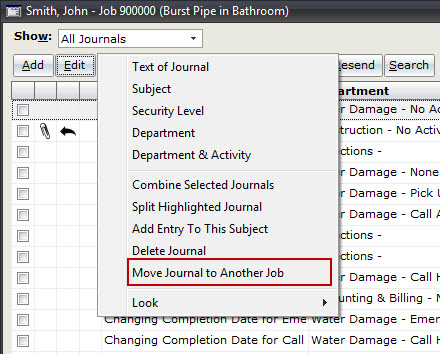 Printing Journals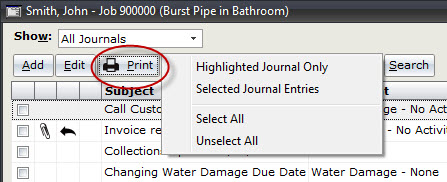 To print the highlighted journal only: Click the Print button and choose Highlighted Journal Only.
To print several journals at once: Check the box next to each journal to print, click the Print button, and choose Selected Journals, or choose All Journals. If you print multiple journals at once, Chronicle exports the journals to Word so you can print from Word using whatever formatting you wish.
To print one journal with several associated messages (that is, you see more than Message 1 of 1 above the journal): Check the box by the journal, click Print, and choose Selected Journals. This prints all messages in the thread. Highlighted Journal Only only prints the currently displayed message.