The General tab for a person looks like this: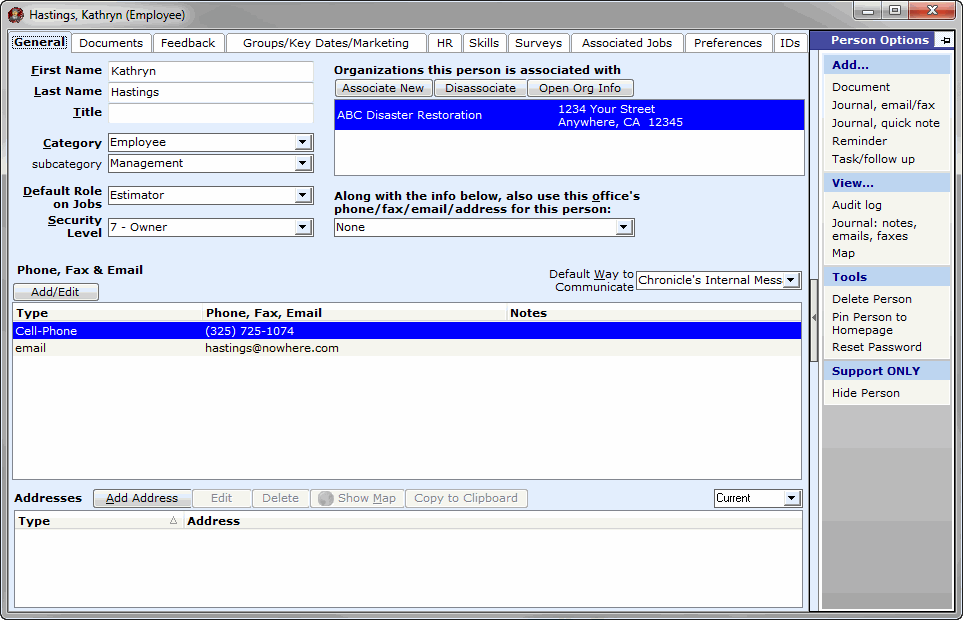 First Name: If there is more than one person (for example, if you are entering a husband and wife customer), you can enter more than one name.
Last Name: Enter the person's last name.
Title: For customers, enter Mr., Ms., Dr., etc. as appropriate. For non-customers, you may want to use this entry to record the person's role in their company: owner, president, sales-rep, and so on. It's fine to leave this entry blank if you don't need it.
Category: Change the category of person if needed. You can't change this if the person is a customer and has a job.
Subcategory: This entry only appears if you've defined more than one subcategory for the category picked above. What is listed depends on what your company has set up.
Default Role on Jobs: This default role is determined by what your company has set up and is based on the person's category. For example, a person with the category of adjuster will most always have the role of adjuster on a job.
Security Level: Choose a security level if the person will have access to Chronicle.
 Associating People with Organizations
| | |
| --- | --- |
| For this Role | Use this security level |
| Owner ONLY | 7 |
| Upper level Management | 6 |
| Departmental Manager | 5 |
| Assistant Manager (e.g. schedules calendar) | 4 |
| Office Employee | 3 |
| Production Employee | 2 |
| Non-Employee (e.g. adjuster/subcontractor) | 1 |
| No access to Chronicle | 0 |
Whenever a person represents a company, associate the person with the organization (and an office if the organization has multiple offices). Associating insurance adjustors and agents with the companies they represent is especially important, but any corporate customers, vendors, sub-contractors, or individuals who represent companies you deal with are important to associate. This lets you quickly identify and get to either from the other. For example, suppose you buy supplies from Bywater Chemical Company, and suppose Fred Bolger is your contact there. You'd enter both the company (that is, the organization) and the person, and then associate them. That way, if Fred Bolger calls, you can look him up to see where he's calling from, or if you forget Fred's name, you can look up the company and find him.
Organizations Associated: Click Associate New to associate the person with an organization (company). For example, you'd associate an insurance adjustor with an insurance company, a subcontractor with a subcontracting firm, etc. For employees, this shows your company name; this can't be changed.
Office Address to Use for this Person: To use the address of an office associated with the person, choose the address here. Chose None if the person doesn't use the office address (for example, if he/she works from a home office.)
Default way to communicate: You can choose to contact them by either email or fax. Chronicle's internal messaging system is only available for employees.
You can also associate a person with an organization from the organization/office screen.
Phone, Fax, Email
Click Add/Edit to add new numbers/email addresses or to change existing ones.
Addresses
Buttons at the bottom of the screen let you add or change addresses, bring up a map, or copy the address to the clipboard.