This report lets you manage the production process by looking at all jobs regardless of the departments that are on the jobs. You not only view everything that needs to be done but also ensure that everything gets completed in the job file. In fact, from this screen you can set activities to pending, active, completed or cancelled by right clicking on the activity and making your selection.
Each line of this report is about a job, department, activity, or document with color coding to show which is which and to see what is overdue or about to be overdue. The color key can be seen in the lower left of the report.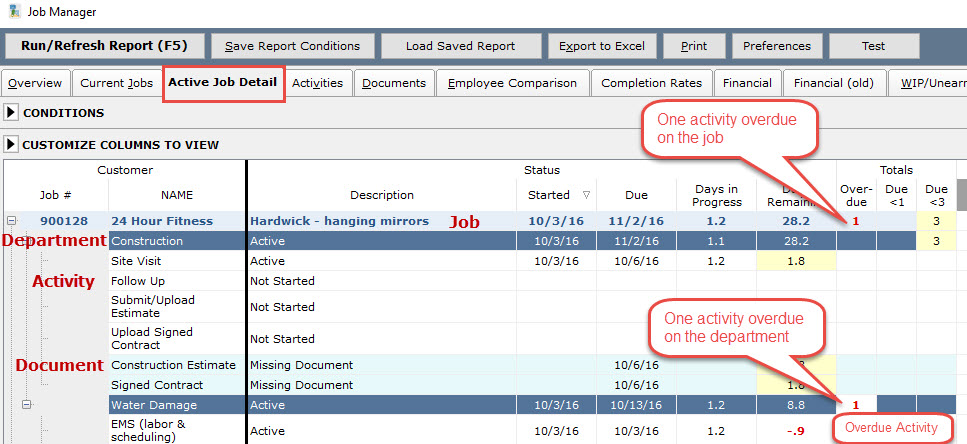 The name field provides detail for each line of the report for example, the name of the particular job, department, activity, and document that line is referring too. The description field goes on to give more detail such as the description of the job or the status of the department, activity or document.  You can even select to see columns about the location, category and source of the job.
Some of the columns that are always visible are name, description, start, due, days in progress, and days remaining, while related people/organizations or overdue details can be selected if you wish to see them. Chronicle also lets you choose to see the job# or job site fields to identify a job along with Job ID2, Job ID3 and Job ID4 if you have chosen to use them.
As jobs, departments, activities and documents near their due date, this report provides you with two ways to view this data. First, you can view data about which departments, activities, and documents are either overdue (red), <1 day , and <3 days from their due date. Second, you can view data as job and department totals of overdue (red), <1 day, and <3 days from their due date. It is easier to see this when the report is in a collapsed form and then drill in by expanding to see a single job or the whole report. 
The report will always run/refresh as a collapsed report for ease of viewing. However, if you are a small company you might want to tell the report to expand all after running. You can at any time expand or collapse a particular job by clicking the +/- sign to the left or in the lower right you can use the expand all or collapse all buttons.

The report Conditions allow you to select which jobs to view by who is associated to the job, either one department or all, and are these departments active or unsold. In addition you can choose to see activities by their status or view jobs by zip codes. Once these are set the report runs these conditions until you change them.