7/11/2013
Overview of the Most Notable Changes
We've made the most significant changes in these areas:
Documents: We've improved the documents screen and added it to the people & organizations.
Labor Import for Windows Phone 8: add labor in Chronicle Mobile for Windows 8 and import it.
Miscellaneous fixes: Zip/Postal Code bug corrected and various other little fixes.
Documents
We've added a Documents tab to the Person and Organization modules, and expanded the options on the documents tab in the Job module, so that from any of these places you have the same options and can add, view, or change documents.
We've simplified the documents screen, reducing the number of columns in the grid; improved the readability of the detail at the right and reduced detail tabs at right, and put fax/email info for documents in view without tabbing. (This fax/email info now includes detail about person who sent the email/fax and the actual email address or fax number sent to.)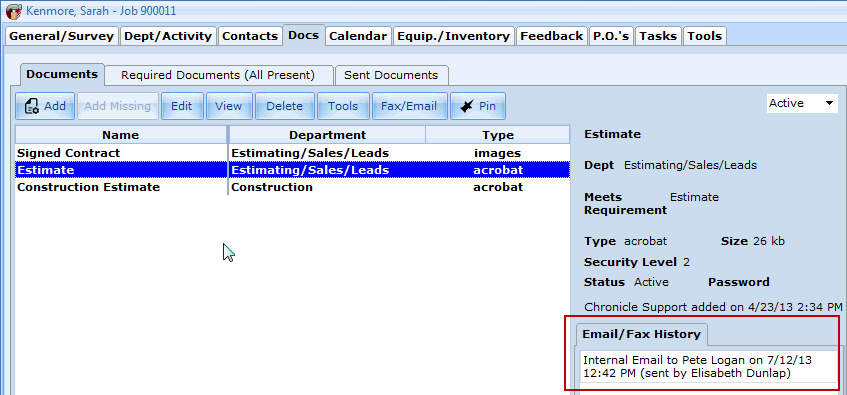 We've added the ability to get to job documents from the right-click menus in the collections manager and in all job-related reports in the job manager.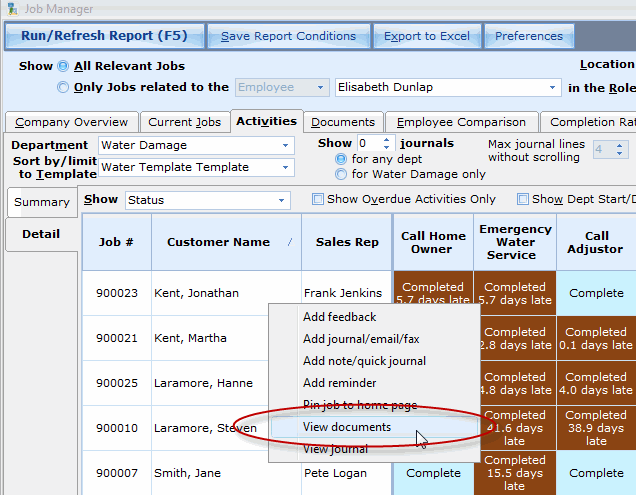 When adding documents to a journal, the add screen now lets you attach documents from various sources (for example, from a job file, a person file, one of your folders) instead of only letting you attach documents from the person or job the person is associated with.

Labor Import from Windows Phone 8
Labor can be entered in Chronicle Mobile for Windows Phone 8. Those labor entries can now be imported through the Labor Manager in Chronicle.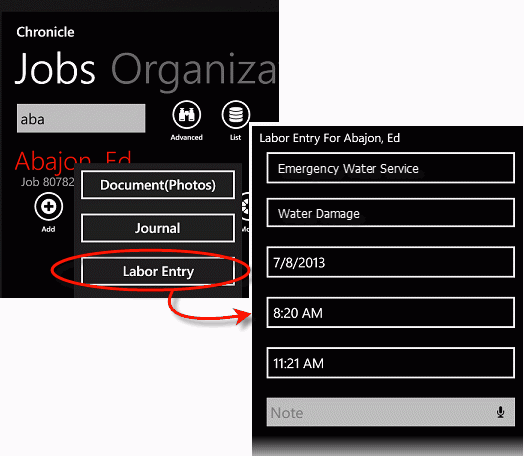 Miscellaneous Fixes
Zip/Postal Codes:
Canadian postal codes now save correctly (and don't generate an error message) if "Canada" is written out instead of abbreviated to "CAN".
If one inserts a zip/postal code into a region when that postal code is already in the region, one no longer gets an error message.
If one uses Add Zips to Region without having previously used Add Region, you no longer get a blank screen.
Job Manager: If using job manager for specific person (non-employee) or company, you can now switch to a different person without changing to org or employee and then back to person.
Job tab, filter by city/zip: These filters have been fixed.
Budget: A bug caused selected budget lines to occasionally by doubled. (This was rare.) We've fixed this.
Document versions: There were cases where Chronicle correctly saved prior versions of documents but didn't give a way to find the old version. We've corrected this.
Job Costing security issue: In a recent release, totals for regular, overtime, double-time costs were visible to people who didn't meet the security level to see labor hours.
Folder issue: Fixed bug which let users to set a folder's security level to 0 which caused problems finding or viewing the folder.
Task document view: Drag & drop doc now works correctly in the task document view.