On the Department Setup screen click Add to add a completely new department or Edit to change information for an existing department. You can also double click on any cell in the grid which will bring up the same popup box that allows you to edit an existing department.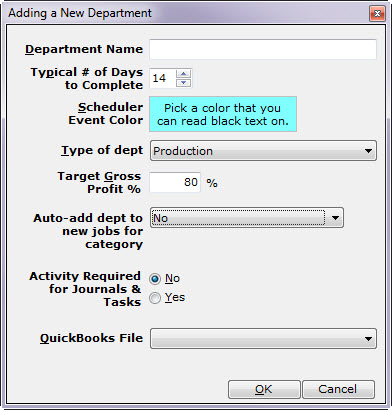 Department Name: Departments in Chronicle are used to describe a process and should be based on your external service lines and internal functions. Therefore, your department names should be descriptive of the process that is represented by the name and be understood by employees. For example terms "emergency services" and "water damage" could be interchangeable. Decide on which department name to use.
Typical # of Days to Complete:  Enter the standard number of days to complete jobs for this department. Chronicle uses this number to set an estimated completion date when the department becomes active on the job. (You can override the estimated completion date if needed.) You'll want to set this number differently for each department. For example, a water job is typically behind schedule if not completed within 10 days, a mold job might typically take 30, and accounting (if you're using it to track whether the job has been billed) should generally be completed in 3 days. By making sure that departments have correct estimated completion dates, you enable Chronicle to warn you if a department misses what's expected.
Scheduler Event Color: You can choose the colors for event that show up on the calendar for each department. Each department can have a different color on the calendar or you can have one color for production departments and another for internal functions.
Type of department: Chronicle assumes a new department is a Production department where you provide a direct service to customers (like cleaning or construction or emergency services). Each of your departments in Chronicle that provide a direct service to customers should be marked as production department and will show up in the grid in the color blue. Departments that take care of internal functions (like Accounting, Collections, Human Resources, or Marketing) that don't provide a direct service to customers are not production departments. They should be set to something other than production. In addition there should only be one department with a marketing type and one department with a collections type as these types are used by the Marketing Manager and the Collections Manager respectively.
Target Gross Profit %: The Work In Progress Report uses these default percentages for its calculations. You can adjust them up or down depending on your business needs.
Auto-add dept to new jobs for category:  This shows whether the department will be automatically added and if so for what category. User can change this value on the dept add/edit screen. Options are No, All, specific category, or specific subcategory.
Activity Required for Journals & Tasks: When adding journal entries you must choose the department that entry goes with it. This setting allows you to gather even more detail about the journal entry by setting the program to also require an activity that the journal entry is about. Typically, you will not need to require an activity for each journal entry. However, the marketing department defaults to requiring an activity. 
QuickBooks File:  The accounting link is generally not set up until you are ready to turn the link to QuickBooks on. The accounting settings are discussed in the accounting setup instructions.