Ability to Merge Information into Word and Excel
Chronicle now lets you create templates in Word and Excel and lets you merge information into these documents when you add the document to a job, person, or organization. To create and use these templates you must have Office 2007 or greater.
To define one of these templates: In the Main System Setup, in the Departments tab pick the department you want to create the template for. Go to the Documents subtab, click Add, and select A Template. Word and Excel are the first two options. (These options are disabled if you don't have Office 2007 or newer 32-bit version; this feature doesn't work with earlier versions of Office or 64-bit versions Microsoft Office 32-bit vs 64-bit.)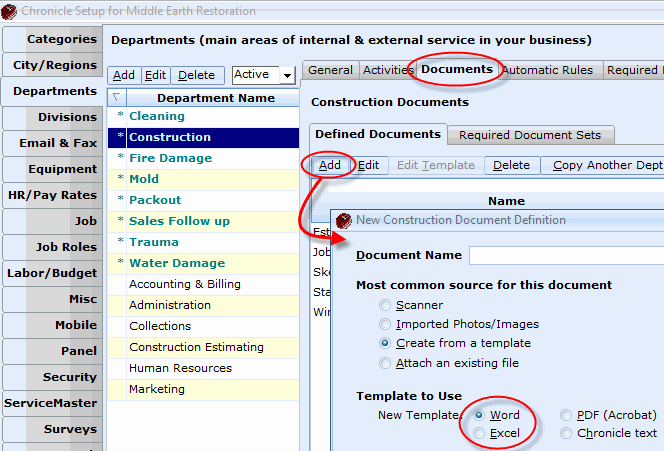 When you create a template for a Word or Excel document, the Chronicle tab has buttons that let you insert merge codes. There are considerably more merge codes than in the old Chronicle text template editor, including codes for related people like the adjuster, project manager, and so on. The codes are also considerably easier to use. The same codes are available in both Word and Excel.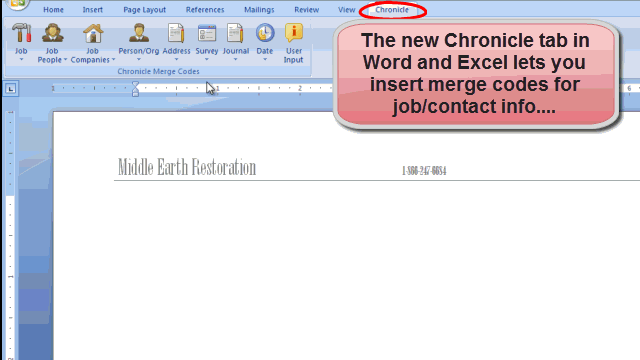 You can format this document just as you would any other Word document: all formatting, styles, tables, headers, etc. are preserved when you merge information into the document.
Once you create a Word or Excel template, you add it to the job just as you would any other document.
For more about setting up the templates, the available codes, or using the templates, see the new video Documents: Merging Chronicle Info into Word/Excel. This video is available on the training videos tab.
For More Related to Document Templates
Copying a Template Which Contains Merge Codes
Job/Customer Info You Can Add to Docs
Adding Documents that Include Job or Customer Info