If you've assigned tasks to others (or others have assigned tasks to you) there are two ways you can check the status of those tasks.
Task Tab: Clicking on the More tab in Chronicle lets you see a list of hidden tabs in Chronicle. Select Tasks from the list. Once you do this, you see a list of tasks that meet the conditions you chose. For more information about any task on the list, double-click that task and make changes. From the list of tasks, you can also use the Options button to mark tasks as complete, to print the list of tasks, or to print task details.

Task Manager: You can view them in the Task Manager found on the the Reports tab.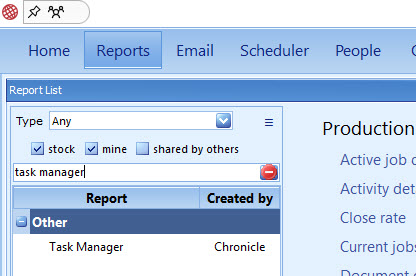 The Task Manager lets you search for them by employee, category, customer, department or job within a given time frame.