Editing and Sorting Resource Members
Choosing which resources to assign to events is made easier by allowing you to put those resources into groups. Chronicle gives you three types of groups to use: Resources, Personnel, and Departmental groups. Otherwise, you would have to search the entire data base to find the one employee you wanted to assign.  My Resources is a favorites list that you can make under your log in. No one else can see your list. They may each make their own. The other two groups are available to all. From the Tools drop down menu in the ribbon, you can edit and sort the resource members on the Personnel/Calendar Group screen by clicking on the up/down or side-to-side arrows.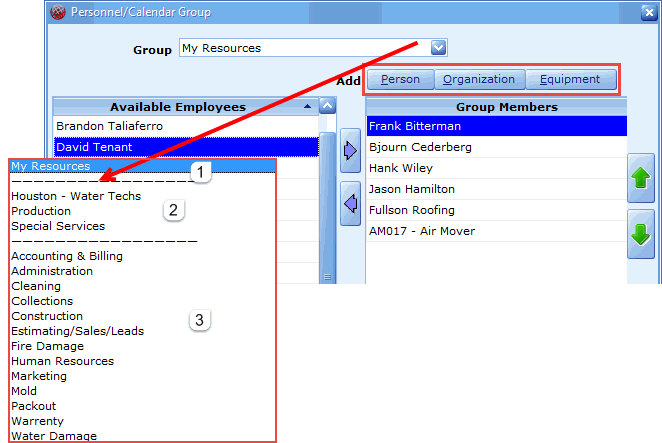 My Resources

:   The Groups drop down list shows who is on your Resources list. For example, if you are office staff and you keep track of the bosses schedules you may want to see just their calendars on your resources list. Note: For production purposes, you will most likely use personnel or departmental groups to do scheduling because these group views can be seen by everyone and not just you.


To start a Resource list:

Either select My Resources from the view settings of the Scheduler or go to Tools and select Edit/Sort Resource Members. Both will open the Personnel/Calendar Group screen.  Select the person, organization, or equipment button (not implemented yet) to find the one you wish to add. Or select the employee and click on the arrow to move into the Group members list. You can also drag and drop, or right click.

Personnel Groups:

Shows you who you have added to your personnel groups which include any employees, subcontractors and equipment (

equipment

n

ot implemented yet). For example, you sometimes sub out rebuilds and want to add that subcontractor to you Construction production group, even though they are not an employee. Or perhaps you want have a resource list that includes equipment alongside a list of employees.(Checking items here is NOT the way to associate equipment to the job; for help associating equipment, see Associating Equipment with Jobs.)
Departmental Employees

: Shows a list of all of the departments you have created in the Main System Setup. This list should only contain production employees that you schedule on the Scheduler. You can add, remove, and sort them here or add and delete them in the Main System Setup on the Employee Tab in the department setup.