After you have scheduled an event for today, sometimes, you may need to go back to the job site tomorrow and finish up the work. This can create a problem on the Scheduler if you have scheduled the next step of the job for tomorrow and now you can't start that step. The job's time line has changed. Chronicle allows you to extend the event and, if needed, shift future events down the time line. This eliminates the need to manually shift future events for a job. For example, you find you need other supplies you must pick up and come back tomorrow to install. This may throw off any other future events you have scheduled for that job and you must send other people to do the work.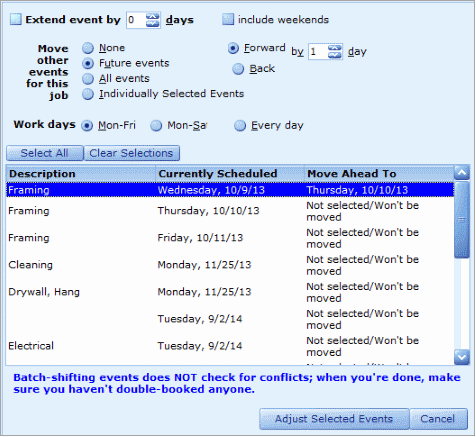 On the Scheduler, select the event, right click and select Extend/Shift event(s). Then select the event and choose how much to extend/shift it by. This screen also shows you a list of all the events that have been scheduled for this job past, present, and future.
Extend event by: The event can be extended to an additional day(s).The extended event is independent of the original event so it can be edited as you need including sending someone else to the job.
Move other events for this job: You can select to shift any future events if an extended event was created and is now interfering with the time line of the job's events. These events can be shift down the time line one or more days or moved backwards if needed.
Work days: You select the days you want the extending or shifting to cover and to you want weekends included.
Batch-shifting events does NOT check for conflicts; when you are done, make sure you haven't double-booked anyone.