The receivable list in Chronicle shows any customer that owes you money. For each of these customers, this list shows how much was billed, how much is still due, the number of days out, and more.
The list in Chronicle is actually wider than the portion shown here; depending on the size of your monitor, you may need to scroll or resize the left portion of the window to see all of the information shown here:

Getting to the receivable list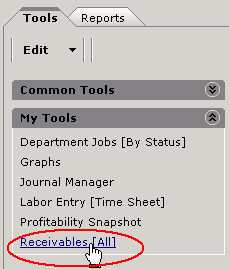 Go to your Home page and click Receivables [All] under Management Tools. (If you don't see Receivables [All] there, click the Edit button over the Tools list and check the box next to that tool and any other tools you'd like to include in your list.)
You can also go to the Financial tab, and then under Financial View pick Receivables [All].
Seeing job information for any customer in the receivable list
Simply click the customer in the list. You see job information in the panel on the right. (If the job panel is blank for any customer, see Finding Jobs that aren't Correctly Linked to QuickBooks.)