Adding an Activity
You can add new activities at any time, but it's easiest if you set them up all at once. That way, the appropriate activity is always in the list when anyone is setting up a job.
Click the New Activity button above the activity list.
Chronicle asks for the new activity name; type the name and press

enter

(or click OK).


In the activity list, select the activity.
To the right, on the Subactivities tab click the Add Subactivity button. 
Enter a description and press

OK

.
You don't have to have subactivities, but if you want to further define different parts of an activity, you can. For example, you might want Drywall as an activity without any further breakdown, or you might want to further define this activity, with Hang and Tape/Texture as subactivities within it.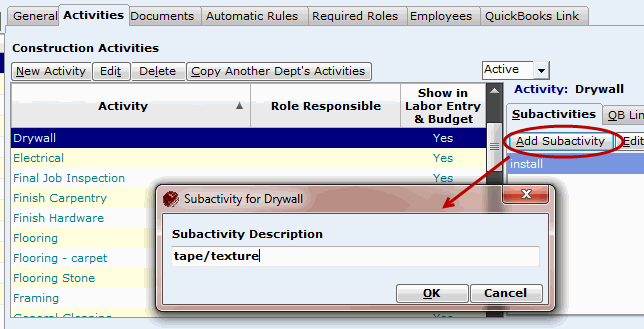 Budgeted amounts for subactivities can be tracked for either labor, subs, or materials. The activity they fall under combines all the budgeted amounts for the subactivities under the Total Budget amount for that activity.
Deleting any activity or subactivity:
Some of the standard categories that we've provided may not exactly match the services that your company provides. You may also add some activities or rename them and then change how you want to track activities. Either way, you should delete those activities that you don't use. Deleting unneeded activities simplifies the lists your employees see. It also makes sure that employees don't accidentally use activities that they shouldn't, causing information to be tracked in multiple ways.
Click the activity or subactivity in the list to select it.
Click the Delete button at the top of the list.
Undeleting Activities
If you accidentally delete the wrong activity, you can get it back by doing this:
On the list of activities, change the list from Active to Deleted. This takes you to a list of deleted activities.

Select the activity to make active again.
Click the Undelete button.
To return to the list of active activities, change the status back to Active.