Chronicle stores the names of all of the cities that you've used in your addresses. Particularly for those who have been using Chronicle for a long time, sometimes cities got entered with incorrect spellings or the same city name was entered multiple ways. The City/Zip/Region tab in the Main System Setup lets you clean up duplicate or misspelled city names.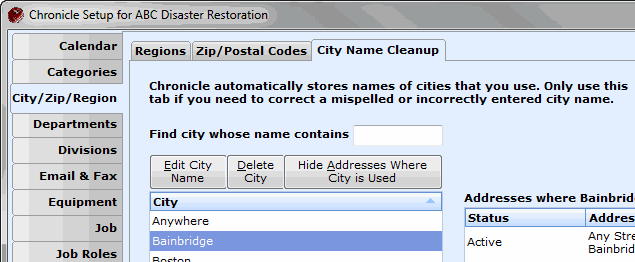 Adding a City: You can't add cities to the list here. Chronicle automatically adds cities to the list when you use them in any address.
Removing a City: If a city is in the list more than once, most often because it has been misspelled, you can remove the incorrect versions. However, if you remove a city that has been used in addresses, Chronicle will ask you to pick the city name to use instead in the existing addresses.
Editing a City Name: Click Edit City Name or double-click any city name in the list to change the name. If you correct a city name here, that change is reflected in every address where that city name has been used.
Viewing Addresses Where City is used: You can toggle between showing or hiding the addresses in the database that use the particular city name by clicking the Show/Hide Addresses Where City is Used button.