Chronicle uses the US zip code database to auto fill in the city name when the zip code is typed in when adding an address. This setting lets you change the default city that Chronicle fills in when you type that zip code. You normally do not need to do anything on this table unless a zip code changes or happens to be incorrect for a particular city in your region. When you put in a zip code that is not on this list, Chronicle will automatically add that new zip code to this list along with the city name you used in the address.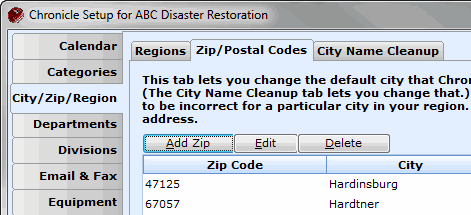 Chronicle also remembers Canadian postal codes. As you add addresses to your database, the first entry of a new postal code will prompt you to put in the City and the Province. Chronicle then adds that new postal code and city to this list. Once you type the final character of the postal code the next time you use it in an address, Chronicle will automatically fill in the city and province for you. If the code or default city were entered incorrectly, you must go to the Main System Setup on the City/Zip/Region tab to correct it.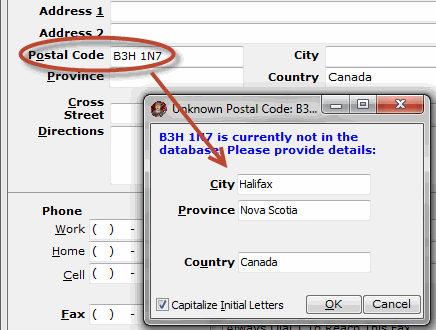 To change the city for any existing addresses you must use the City Name Cleanup tab.