You can enter employee pay rates from either employee file or from the labor manager.
From the Labor Manager:
The Employee Pay Rate tab contains the pay type, pay rate, last raise date, bonus %, and hire date. Double-click any cell to change the corresponding value.
If you plan to enter job labor hours for an employee, you must set the pay type to Hourly and enter a pay rate. Chronicle will NOT show employees in the labor entry screen that do not have hourly pay rates.

If you have a salaried employee that you want to track labor hours for, choose Hourly for the Type and enter an hourly equivalent for the Rate. For example, if an employee gets a salary of $800/week and is expected to work a 40 hour week, then you'd enter $20 for the pay rate. This way, if that employee spends 4 hours at a job, Chronicle will be able to calculate that that labor cost you $80. For a salaried employee, this is obviously only an approximation, but it is still useful to be able to reflect this in the job costs.
From the employee file: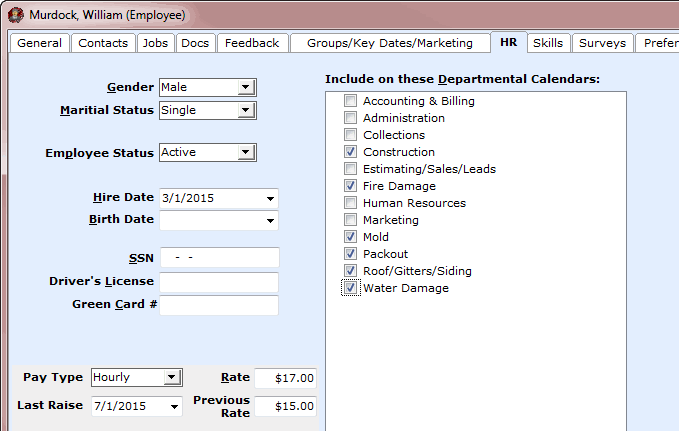 This tab only appears for employees. Here you can edit an employees Gender, Marital Status, Employee Status, Hire Date, Birth Date, SSN, Driver's License Number, Green Card Nuber, Pay rate and type options, and an option to select different departmental calendars to be included on. Only people with an appropriate security level can see the pay rate or make changes.