Chronicle Purchase Orders do not link to Quick-books and have no line item detail. However, Chronicle does let you enter a PO's total amount that has been created and then uses that number for projected job costing purposes. You can add these totals directlo from the job file or in the Purchase Order Manager which lets you add, review, edit, approve, or mark paid purchase orders across all jobs.
Before you can use the purchase order feature on jobs, go to the Purchase Order tab in the Main System Setup and indicate whether you want to:
1. Track whether P.O.'s are approved.
Unchecking the approved/paid boxes simplifies the PO screen in the job file.
Checking the approved/paid boxes gives you more statuses to choose from.


2. Have users indicate P.O.'s have been paid.
3. Require a description/notes for each P.O.
Unchecking the description and department boxes enables users to more quickly add PO's. Checking the description and department boxes will give you more complete information.


4. Require a department for each P.O.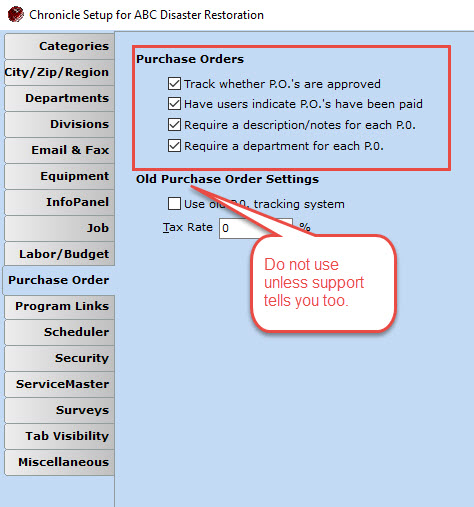 You can view the security contexts settings on the Security tab in the Main System Setup.
Do not use the old Purchase Order settings unless instructed to do so by a support technician.