The Main System Setup combines most of the program's setup options into a single setup module in Chronicle. This lets you customize many aspects of the program such as departments and activities; categories for items like, jobs, job sources, organizations, people, skills, and tasks; define and require documents and document templates; and more.
Most Chronicle users never need to change setup—typically only owners, administrators, and managers change setup—so the setup options are not automatically shown in the Tools list; you must add them to your Tools list before you can use them.
Main System Setup default security settings are set to a level 6 or 7 can make changes and level 5 and higher can view the settings.
This screen can be found on the ≡ menu in the upper right hand corner of Chronicle. When you first go into Main System Setup, you see a screen like this: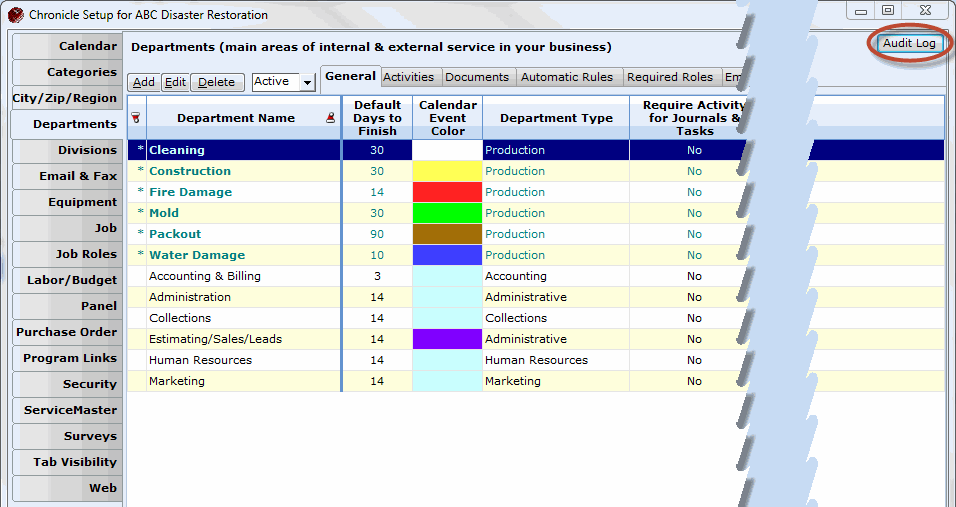 The tabs on the left take you to the different types of information you can set up. Notice that in the graphic above, the Departments tab has sub-tabs where there is even more detail respective to the setup of departments.
Other Options
Audit Log: In the upper right hand corner of the setup is the button for the audit log. This shows what settings have been changed during the past year, when they were changed, and who made the change.