Office 365 Business online not only simplifies the use of Word, Excel and PDF documents in Chronicle but it also fundamentally changes how the business creates and saves documents. With 1 terabyte of OneDrive* space, all documents are saved instantly. No more worries about lost documents because they were left open in Word overnight. Once an employee has logged into Chronicle, they will automatically have access to 365 online. No login to 365 required.
This means you will no longer need to keep up with licensing individual Office versions on each workstation. Also as part of the subscription, you will get a license for one desktop version of the program which you will need to use to make Chronicle merge templates.
Click here to sign up for a business subscription using a generic account name like admin@youremail.com.
*Once you purchase online 365 make sure that the One Drive is provisioned by copy a file to it.
Integrate with Chronicle:
To set up your 365 account in Chronicle, go to the Main System Setup > programs links tab > Microsoft/Google tab> area of integration - document storage> add account> select add office 365 business> log into your Microsoft account and follow the screen prompts. If your document storage space exceeds 1 TB, you can add additional office 365 business accounts. Do not delete the older accounts as Chronicle will still need to access the files stored in them.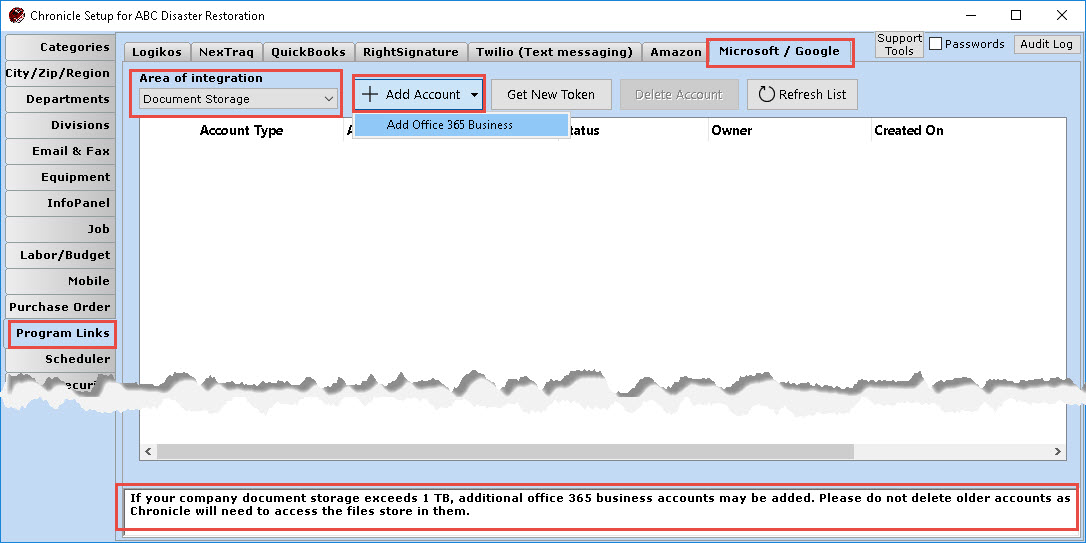 Document Settings for Office 365:
In the Main System Setup on the defined documents tab, you can set documents to only use 365 online storage.

Also read:
Office 365 - Working with Documents
Office 365 - Merge Template Codes