In Chronicle, people and organizations are placed in a category such as agent or subcontractor. Sometimes you want to group them differently but do not want to change their category. For this, you can create a group that can have people and organizations in it from different categories. Once these groups are created you can use them for marketing or sending out mass emails.
Adding one person/org to multiple groups:
In the Group Manager, you can add people or offices one at a time by clicking the Add button over the members list.
From the add/edit resources screen in the Scheduler, you can also add people to personnel groups.
The person/org file's Groups tab lets you the person/org to multiple groups.
This screen for adding the person to groups only shows groups you're allowed access to, so you may see less groups here than you see elsewhere. (People can create groups that others can see but not change; you'll see those groups elsewhere, but you won't see them here since adding people to the group would be a change.)

 Adding multiple people/orgs to a single group:
When first creating a group you may already have several people/orgs you want to add or want to add several people to an existing group. You can do so quickly by going to the people/org tab and doing a category search. Then either "select all" or place a check mark in the boxes of those you wish to add to a single group. Next, click on Add to Group button in the Tool Bar. From there you can create a new personnel or marketing group or add to an existing group.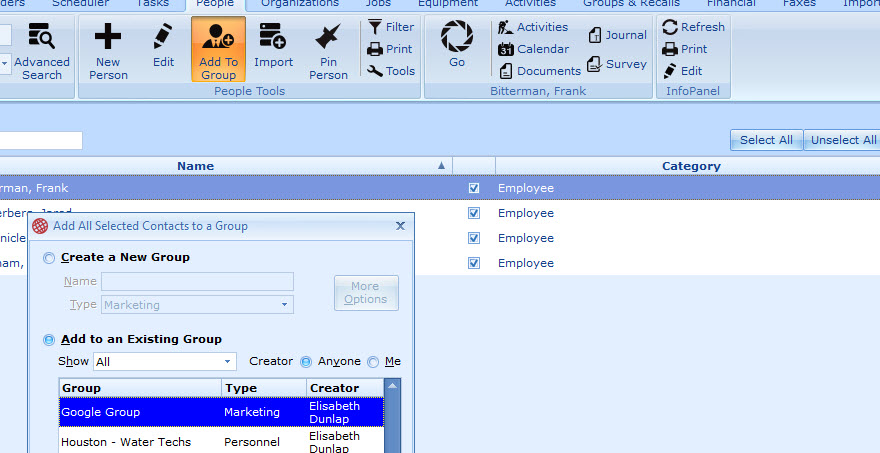 TIP: It is recommended you focus on putting people in these groups since you will be connecting with people even in an organization. If at first you do not know anyone there, add the organization but as soon as possible replace the organization with people who work there.