Linking your Logikos account with Chronicle is pretty straight forward.
First, get a Logikos account and enter your equipment and vehicles into their system.
Second, in Chronicle, go to the Main System Setup, found on the menu icon in the upper right hand corner of Chronicle.

Next, navigate down to the Programs Links tab in the MSS. There you will find a Logikos sub-tab
Enter your Logikos Customer Name (This can be located in the top right corner of your Logikos Account Page)
Enter your Logikos Username (You will enter your Logikos username in the 'Account #' field in this screen.)
Enter your Logikos password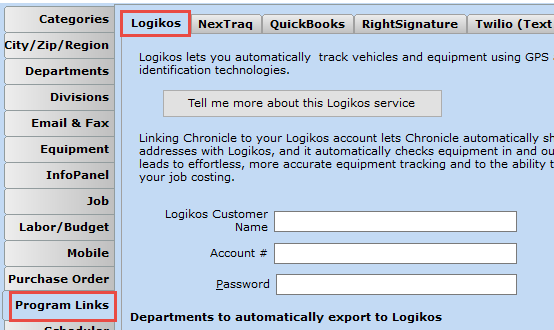 Be sure to check the boxes for all the departments you want to automatically export to Logikos as this will push Jobs in Chronicle to Logikos so that when you move equipment Chronicle knows which job it was moved to.
Within 24 hours Logikos will automatically transfer all of the equipment and vehicles you have entered into Logikos to Chronicle.
When the transfer has taken place, you will be able to view the Logikos equipment in Chronicle in addition to any other equipment categories you have set up. You will find the Logikos equipment listed on the Equipment tab in the Main System Setup.
Logikos equipment can only entered or removed from within the Logikos program and adjustments to that list in Chronicle will be automatically made within 24 hours.
As with all equipment entered into Chronicle you can also track the cost per day and view this equipment in the job file when moved to a job site.