It's critically important that people who work for an organization be associated with that organization. This lets Chronicle link the organization to jobs, etc. when the person is associated. It also lets Chronicle get office phone and address information when looking at the person.
Associating the person with the organization lets you quickly identify and get to either set of information from the other. For example, suppose you buy cleaning supplies from Bywater Chemical Company, and suppose Fred Bolger is the person you regularly talk to there. You would want to enter both the company (that is, the organization) and the person, and then associate them. That way, if Fred Bolger calls, you can look up the person to see what company he's calling from, or if you want to order cleaning supplies and have forgotten Fred's name, you can look up the company and find him that way.
In the organization screen, you can add new people to Chronicle, or you can associate existing people with the selected office.
Associating someone who's already in Chronicle
If someone's already in Chronicle (and wasn't associated with this office when you added them), on the Contacts tab for the office, click Associate Existing Person above the people list and then find the person to associate. You have three choices to search for a person that may already be in the database. Type at least three letters of the person's first or last name, part of an email or the category you are looking for. Select the person (or people) to associate and click OK.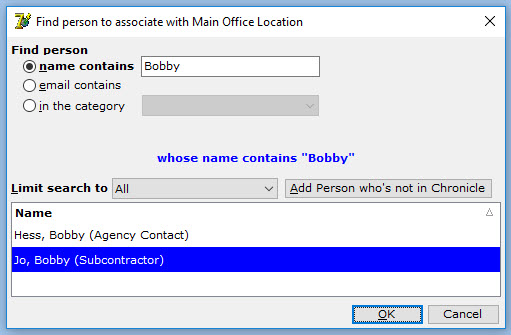 Associating someone who's not in Chronicle yet
To associate someone with the selected office who isn't in Chronicle yet, click the New Person button above the list of associated people.
Category: Pick a category for the person. The categories listed are from the Categories tab in the main setup; you can add additional categories (or remove categories you don't need) there. The Subcategory entry only appears if the category you picked has subcategories.
Security Level: This is most often left at 0 as very few people need access to your database. You can give non-employees access to your Chronicle, if you wish, as they will only have access to jobs they are associated to.
Associate: This field is visible when you select a category. Chronicle assumes that since you added this person while in an organization file, that this person must also work here and will make the association for you. There are other places in Chronicle that you will see this field and will need to make a manual association by picking the correct organization this person works for. 
Phone/Fax/Email: Enter whatever unique contact information you have for this person. You can add additional contact information later if needed.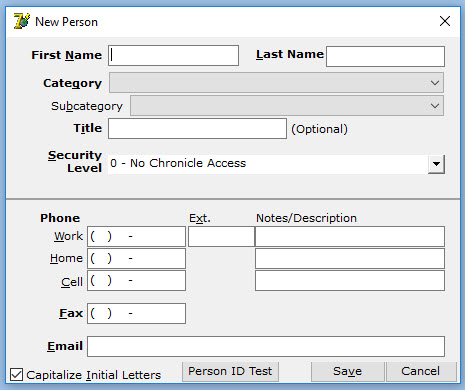 Moving someone from one office to another
If someone changes offices, or if you accidentally add someone to the wrong office, you can move the person from one office to another by highlighting them and then clicking on the Disassociating button. This does not remove them from the database. You can then go to a different organization screen and Associate then to a new organization.