InfoPanels in Chronicle, show you details about the job, person, or organization that has been selected in either a list or an event in the scheduler. These panels are shown to the right of the screen and can be customized with selected information. If you meet the security to do this, you can change what appears on these panels either for all users or for particular users. You can even print what is on an InfoPanels as documents that you can give to employees or customers.
Getting to the InfoPanel Setup
Click on the Chronicle icon in the upper left corner of Chronicle. This is your tools list. Select Main System Setup.
If Main System Setup isn't in listed under the red Chronicle globe in the upper left of Chronicle; see Adding Main System Setup to Your Tools List.
In the list of tabs on the left, click InfoPanel.

Changing what's on the panels
Under Page to Customize, select the panel to customize.

To add new items to an existing tab:

Select the tab to add the items to, select the items to add, and then click the Add to... tab. If needed, you can add the same item to a tab multiple times. For example, you can now add multiple  individual survey answers or calendar's for multiple people on the same page.

To add a new tab:

Select the items that you want to add from the list on the right, and then click then Add to a New Tab button above the list of items.

Other changes:

The buttons let you change the order of the items, the height of any item, and the name or position of the tab.
Choosing who to customize panels for
To customize panels for anyone who doesn't have custom panels: Click Standard View... at the top of the screen.
To customize panels for a specific user: Click Specific Employee and then pick the employee to change panels for. (Your own name is always initially selected, but you can pick anyone who has access to the program.)
Copying custom pages from one user to another
Click Copy Panels from One User to Another. You'll see a screen like this: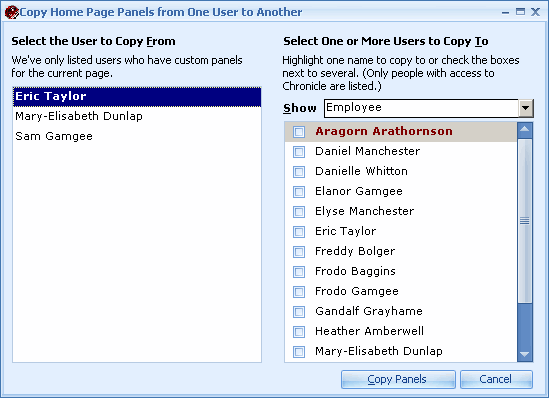 On the left, you'll see every user that has a custom version of the current page, that is, everyone that you can copy from. On the right, you'll see everyone that you can copy to. Simply highlight any employee to copy to or check the box to the left of multiple employees to copy to. Once you've selected the appropriate people, click Copy Panels.