If you do not plan or choose to use Tsheets with QB to automatically have labor entered into Chronicle, you will need to enter this information manually into Chronicle. You can only see the pay rate information on the Setup tab in the labor manager, if you meet the requirement for the PAYROLLVIEW security context. You can only change these entries if you meet the requirement for the PAYRATECHANGE security context. (See Security Setup for help customizing security.)
To be able to enter labor manually for employees, the employee must have a Pay Rate and the pay type must be Hourly. This enables Chronicle to track the cost of time spent on jobs. For salaried employees that go to jobs, enter Hourly here and enter the hourly equivalent of the pay rate. (For example, $400/week for a 40 hour week should be entered as $10.00/hour.) Double click in the rate column to open pop up for setting the rate.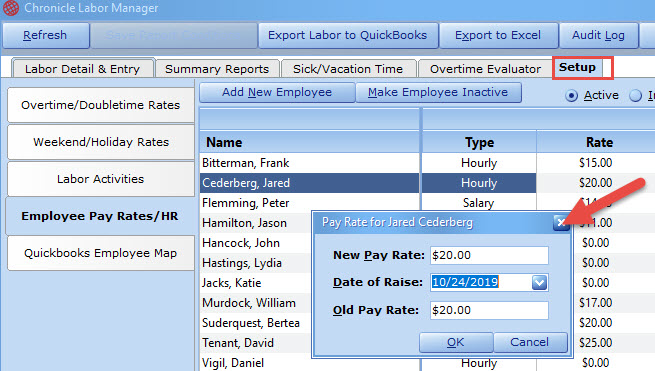 The Last Raise and Previous Rate entries are only for your record-keeping; Chronicle doesn't use these values for any calculations.
The bonus eligibility entries only need to be filled in if you use Chronicle's automatic bonus report; see Bonus Reports for more info.