We support QuickBooks 2014, 2013, 2012, 2011, and 2010, and Enterprise 14, 13, 13, 12, 11, and 10 for US and Canadian customers. Please note:
QuickBooks 2015 / Enterprise 15.0 are only supported with our new Jupiter bridge

QuickBooks 2014 / Enterprise 14.0 are supported on Release 3 (R3)

QuickBooks 2013 / Enterprise 13.0 are supported on Release 8 (R8)

QuickBooks 2012 / Enterprise 12.0 are supported on Release 14 (R14)

We currently support three different QuickBooks environments:
A hosted QuickBooks server    We strongly recommend this solution for most customers. Our trusted vendor, Pro River Technologies, provides a hosted solution we have confidence in. Please go here for more information: http://www.gochronicle.com/quickbooks-hosting-made-easy-for-chronicle-users/
A dedicated physical or virtual server    An example of a recommended physical server can be found here (this link will download a pdf).
This rest of this article contains technical info and guidelines for QuickBooks Integration on a physical or virtual server. Please review this document carefully; if there's anything you don't understand or need further clarity on, please email operations@gochronicle.com and we will follow up with you.
Getting your server ready / Chronicle review of your server
Before we begin QuickBooks Integration with Chronicle, an implementation technician will review your servers and confirm that the Chronicle and QuickBooks servers meet our minimum supported environment. If we discover that your configuration falls outside of what we support, we'll let you know where the issue is so you can address it. We will not be able to setup QuickBooks Integration until that happens, or you've signed a waiver agreeing that your server is outside of our supported environment and we won't be able to guarantee QuickBooks Integration reliability.
After both environments are validated, an implementation technician will link your Chronicle server to your QuickBooks company file and begin to integrate your financial data into Chronicle. This initial integration can take anywhere from 4 hours to 48 hours or more to complete. Chronicle and QuickBooks cannot be accessed by employees during this process. We typically schedule the initial integration over the weekend to minimize impact on your business, but we can also do this during the week. Please work with your implementation technician to secure the best time for this process.
Once the initial integration has been made, you will then need to associate the QuickBooks financial data to the correct jobs in Chronicle.This is a one-time process and we will help you do it. Moving forward, the jobs in Chronicle and your QuickBooks data will be integrated automatically.
QuickBooks Server – Hardware
Key understandings
The QuickBooks server MUST be a dedicated server for QuickBooks ONLY. It cannot be a terminal services server or domain controller, and cannot be used to host other applications. See below for why this must be a dedicated environment.

Intuit's QuickBooks Connector needs a lot of memory. The QuickBooks server must have a minimum of 6GB of RAM (8GB is recommended).

QuickBooks is a database, and fast reading and writing of data is critical to good performance. One of the best things you can do to improve database performance is put fast drives in your server.

We strongly recommend an Uninterruptible Power Supply (UPS) that provides 30 minutes of backup power. In the event of a power disruption, the UPS software can gracefully shut down the machine and avoid data corruption.

We recommend routers and network cards that provide a Gigabit network, and not less than a 100Mbps network.

If connecting QuickBooks server to a remote Chronicle server (such as a hosted Chronicle server, or a Chronicle server that's in a different office than your QuickBooks server), the QuickBooks server must have a static IP address with TCP port 2080 open and forwarded to the QuickBooks server. The QuickBooks server must have a hard coded or reserved IP address.
Why we specify a dedicated server environment for QuickBooks
We are often asked why we need a dedicated QuickBooks server to connect QuickBooks to Chronicle. Intuit provides software that lets third-party programs (like Chronicle) read and write to the QuickBooks file; this is the only way to talk with QuickBooks. We use that connector to share information between QuickBooks and Chronicle. Intuit's connector is both resource hungry and intolerant of any other applications or processes. If it doesn't have enough processor or memory resources, as is the case when other applications are running, the connector's most common response is to just end the connection, which causes our QuickBooks Integration to fail. From the user's perspective it feels and looks like a Chronicle problem; all the user knows is that financial data isn't showing up in Chronicle, but it's almost always a problem with Intuit's connector.
Since the connector is delicate by nature, the best way to ensure a reliable QuickBooks Integration is to run it inside a dedicated environment so no other program or process can use resources or interfere. Other than the operating system, antivirus software, LogMeIn, and scheduled backup software, the QuickBooks server should have no other software installed. It should never run terminal services or be set up as a network server or domain controller.
QuickBooks Server Guidelines
Number of Users
5 or less
5 – 10
10+

Processor

Dual core, 




2.0+ GHz

Quad core 




2.4+ GHz

Quad core 




2.4+ GHz

RAM

6+ GB

8+ GB

8+ GB

Main Hard Drive 




Configuration

RAID 1

2 hard drives: 
250GB SATA RAID
(or 73GB SAS*, 
preferred)

RAID 5

3 hard drives: 
250GB SATA RAID 
(or 73GB SAS*,
preferred)

RAID 5

3 hard drives: 
73GB SAS RAID
(or solid state,
preferred)
*  SATA = 7.2k RPM Serial ATA. SAS = 15K RPM Serial-Attach SCSI (much faster than SATA). Solid state drive are fastest and preferred.
An example of a recommended QuickBooks Server Configuration.pdf.
QuickBooks Server – Software & Environment
Operating System
Supported Operating Systems: Windows Server 2008 R2 Standard Edition and Server 2012 (for QuickBooks 2014/14.0 only) are our recommended OSs. We also support Windows Server 2003 and Server 2008, 64-bit editions (or x86 Enterprise or Datacenter Editions). Our strong recommendation is a true server OS. If budget constraints preclude this, we also support Windows 7 Pro, but it is not our recommended OS for servers. All other operating systems are unsupported.  

If connecting QuickBooks server to a remote Chronicle server: You must have a static IP address with port 2080 TCP open and forwarded to the QuickBooks Server. The QB's server must have a hard coded or reserved IP address.

You must have Microsoft Security Essentials installed on the server (http://windows.microsoft.com/en-US/windows/products/security-essentials). Many other antivirus solutions interfere with the QuickBooks Integration processes and degrade performance.  
QuickBooks Software
Your QuickBooks file must be under 1 gigabyte in size. 

The QuickBooks Database Manager and a dedicated QuickBooks user license for the QuickBooks-Chronicle Integration must be on the QuickBooks server. Both must be registered and have the latest updates.

The QuickBooks user the integration software is installed under must be the one always logged in and requires full server Administrator rights. 

Use the QuickBooks Connection Diagnostic Tool to set up the connection between your QuickBooks server and the clients. Downloaded it from: http://support.quickbooks.intuit.com/support/networking/nettool.aspx
Ongoing Server Maintenance
ALL remote access to this server must be through LogMeIn. This provides a single, monitored remote entry point and allows us access to the server to provide you with proactive support. ALL other remote access software (i.e., Terminal Services, VNC, RDP, etc) must be removed. We will supply a link for you to setup our instance of LogMeIn. 

Windows Event Logs: Event logs must have no serious errors or warnings.

Regular Windows/QuickBooks Updates: Someone in your organization must regularly take Windows and QuickBooks updates. Not taking certain QuickBooks updates may cause the integration to fail.

Windows Firewall: Enable the Windows firewall. Use Net Tool (http://support.quickbooks.intuit.com/support/networking/nettool.aspx) to open the appropriate ports if needed.

Regularly Use the QuickBooks Backup Utility: Your network backup is not enough. The QuickBooks backup utility resets the indexes in the data files and cleans up the transaction log. Use this with the Verify feature to make sure your data file is well-maintained.
Integration Support
Our proactive support measures let us know of integration issues so we can attempt to resolve issues before they become problems for you. However, if you experience an integration failure, please do not hesitate to contact our support department.
866-247-6684
Chronicle/QuickBooks Integration Sheet
Before we schedule the initial link between Chronicle and QuickBooks, you must complete this sheet and email it to support@goChronicle.com. You may also fax it to (909) 801-2099. Both your IT person and your owner/general manager must sign it.

* If you have more than 1 QuickBooks company file you are integrating please give us information for all files.
Check Each Box To Confirm (all must be checked for integration to occur):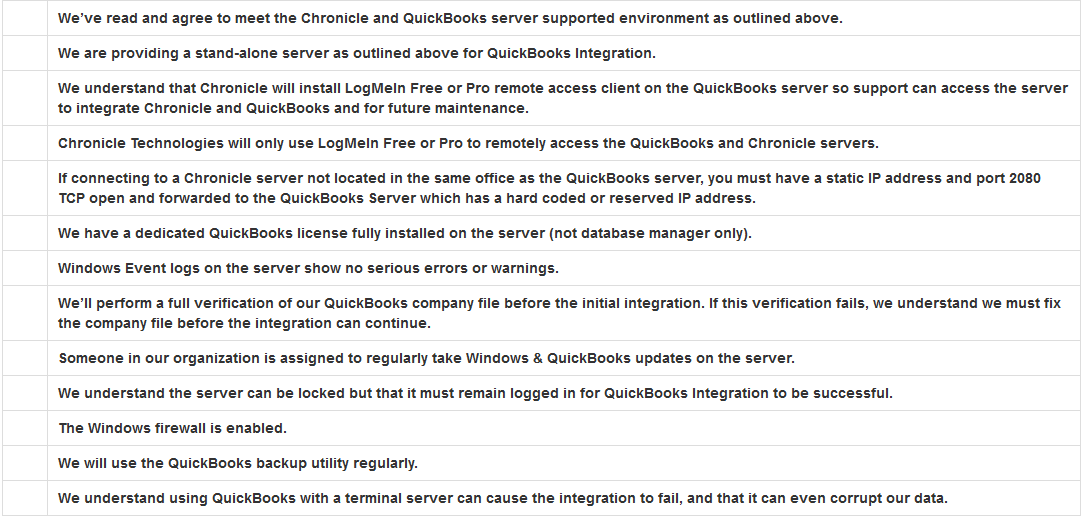 Certification
I understand that Chronicle can only guarantee a reliable QuickBooks Integration if the above supported environments are provided.
If you are choosing to set up a QuickBooks environment that does not meet the above, you must read and sign the following waiver.
By signing this document you are acknowledging that: 
You have reviewed the above supported environments for a QuickBooks server environment but are choosing to proceed with an unapproved setup configuration to run your Chronicle-QuickBooks Integration (not a dedicated machine, not an approved OS, etc.).

Due to the unsupported configuration, Chronicle Technologies cannot guarantee stability, reliability, or performance of the Chronicle-QuickBooks Integration program.

You waive the right to hold Chronicle Technologies responsible for any data corruption, including total and unrecoverable data loss, which may occur for as long as the Chronicle-QuickBooks Integration program is running in an unsupported environment.

We will make a reasonable attempt to get the Chronicle-QuickBooks Integration to connect and process correctly. If we are unable to create a reliable connection, there is nothing further we can do until a supported environment QuickBooks is provided.

If a QuickBooks Integration has been established in a nonstandard environment but is not reliable and results in the need for ongoing intervention by Chronicle support staff, we can proceed with either of the following:




You can update your QuickBooks server to meet our supported environmets in order to run the QuickBooks Integration successfully.

We can continue to attempt to run the integration manually, but each intervention will be billed at $150.